Our COVID-19 Policy
Updated October 15, 2020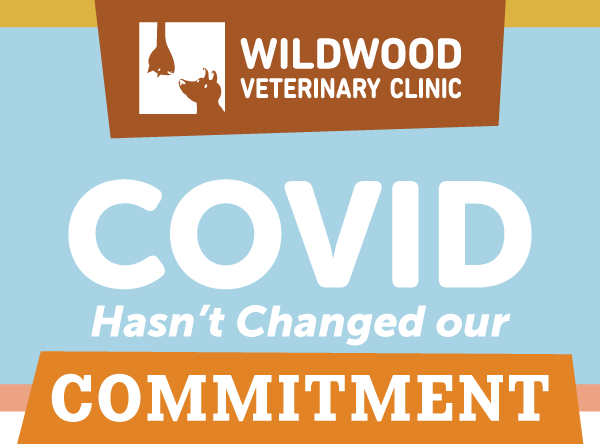 COVID-19 is still impacting daily life, but our commitment to you and your pet has not changed. We have worked hard to maintain the best of veterinary care for your pet and the highest level of customer service for you.
Our security protocols help everyone keep safe, so please be sure to review them before your next appointment. Here are some updates to keep in mind.
We are still doing only curbside appointments. To facilitate the check-in process, please fill out an intake form before you arrive.
To protect our staff, please wear a mask when handing off your pet.
If you are feeling ill, please reschedule your appointment or have someone else bring your pet to the clinic.
We are receiving an overwhelming number of requests for faxed prescriptions from outside online pharmacies. Because we are focusing our time on pet care in the clinic, as well as emergencies, emails and telemedicine consults, we are unable to respond as quickly as we would like. For faster, efficient service, please use one of our online resources for your medications or prescription food.
---
Curbside Pick-Up For Drop-Off Appointments
To facilitate the check-in process, please fill out an intake form before you arrive.  Please call us at (503) 477-4757 when you are on our way and a member of our team will meet you at the door to pick-up your pet, go through the check-in process, and then take your pet inside for their scheduled appointment. After dropping off your pet, we will:
Perform a regular exam with your pet and email you a treatment plan for any suggested preventative care services. You will be able to approve these services via email or by phone. You will still have the opportunity to communicate with the veterinarian over the phone.
Take payment over the phone after services are completed.
Schedule a discharge time and arrange to meet you again at the door or curbside to pick-up your pet.
Urgent Care For Home Quarantined Pets
If you live in the south waterfront area and find yourself in a home quarantine situation, we may be able to arrange a pick-up at your location to provide urgent care for ill pets. Please call us at (503) 477-4757 to discuss urgent care pick-up options.
Curbside Pick-Up of Food and Medications
If your pet relies on medications or prescriptions diets, we recommend ensuring that you have enough supply to last through at least 2-3 weeks of a possible home quarantine situation. Please call us at (503) 477-4757 to place an order. Note that it may take us 2-3 days to obtain large quantities of food or certain medications, so please plan ahead. We will have you pay over the phone and will bring your receipt and products directly to your car.
Purchasing Medications Online
We strongly encourage you to purchase your pet's food and medication either through our clinic or directly through our online pharmacy partner. During this time we are willing to waive our third-party prescription policy to help accommodate our clients. However, please note that we will have limited staff during this time with limited resources to approve third party prescription requests.
We are here to serve our community and to help your animal companions stay healthy. As you know, pets are wonderful stress-relievers and we want to make sure we do all we can to assist safely during these challenging times.
Please don't hesitate to call us at (503) 477-4757 if you have questions or need assistance for your pet in any way. Thank you for your patience and cooperation while we navigate through this process.
---
Additional COVID-19 Resources:
Coronavirus and Pets:
Currently, there is no evidence that companion animals can be infected with or spread COVID-19. This is a rapidly evolving situation and information will be updated by the CDC as it becomes available.
The canine coronavirus vaccines is only effective in protecting dogs against an enteric (intestinal) coronavirus infection and is not licensed for protection against respiratory coronavirus infections in dogs. This vaccine DOES NOT provide cross-protection against COVID-19.
For more information on COVID-19 and pets, please visit the American Veterinary Medical Association COVID-19 Page.