You Now Have Access To Quality Pet Care From the Comfort and Safety of Your Own Home.
To ensure our patients continue to get the best veterinary care possible from any location, we are very excited to announce that we now offer telemedicine services for remote pet care!
While telemedicine may not offer the same feeling as an in-person visit to our clinic, this virtual appointment allows you to connect to our medical team and get fast, reliable answers to your questions or concerns via video or chat.
With airVet, you have access to a veterinarian 24 hours a day, 7 days a week. During regular business hours, you'll be connected to either Dr. Chigos or Dr. Johnson for a remote consultation. For after-hours service calls you'll be connected to another experienced veterinarian who can immediately assist you and communicate with your Wildwood team for any follow-up services or care. Plus, with airVet, your care team has instant access to your pet's records which means no additional time is needed to reiterate your pet's medical history.
Getting started with airVet is easy. Simply download the App for Apple IOS or Android.
Once you've downloaded the app, add your pet information and search for Wildwood Veterinary Clinic as your home hospital. Select your primary veterinarian and you are ready to request your first call!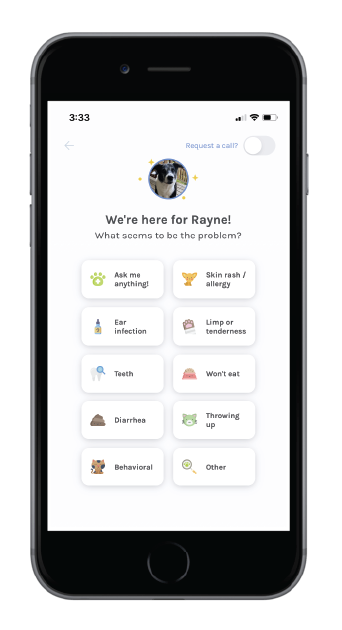 Important Telemedicine Details:
airVet connects you with your Wildwood veterinary team during business hours but will utilize third-party veterinarians for after-hours calls.
airVet consultation calls may cost an additional fee
Not all ailments are suited for telemedicine, and telemedicine is not suitable for urgent or emergency care.
What Is Suitable For Telemedicine Calls?
Allergies
Coughing, sneezing, signs of upper respiratory infections
Skin conditions, itching or rashes
Diabetic care and management
External parasites (fleas, ticks, mites, etc.)
Gastrointestinal upsets, intestinal parasites
Hospice care
Lameness evaluations
Nutritional counseling
Stressed or anxious pets and behavioral evaluations
Suture checks or surgery re-checks
If you think that you pet is in need of emergency care, please contact us immediately at (503) 477-4757.